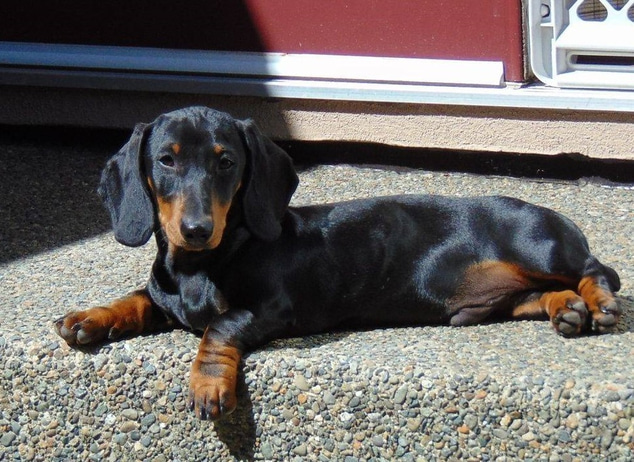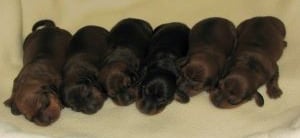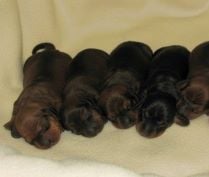 Thank you for considering adopting one of our beautiful little puppies.
Please read...
All of our puppies will come vet checked with a vet record, up to date on age-appropriate vaccinations, series of dewormings with a One-Year non-breeding health guarantee and a puppy pack.
Your puppy pack will include a sample bag of good quality food your puppy is currently on, couple
of his/her favorite toys, peepads, dish, blanket and a puppy beef jerky for the drive home..
No guarantees are made of your puppy's adult size, trainablility or coat length. We also do not take responsibility of any hernias once puppy leaves our home. If puppy has a hernia here, you will be notified, and it will be recorded in the puppy's health booklet at the time of our vet appointment.
We will not knowingly sell our puppies to any pet stores, puppy mills or brokers.
Please dontact me for puppy prices. When you get a price for a puppy, or a litter coming up, the quote is only valid within the next 12 months. When a pupy is offered to you but you decide that the timing is not good, puppy is not the right gender, color, coat length... your quote is not valid anymore. Because of ever changing vet and emergency hospital fees. genetic testing costs, prices of the puppies are subject to change.
Don't send a deposit. If you are interested in our puppies, I will put your name on our mailing list and I will contact you when puppies are born. I want to make sure we have enough puppies to go around, and they are growing nicely.
Puppies are usually ready to go to their new home at 8 weeks of age. They are eating, drinking, using the pee pad on their own. Smaller pups will be kept a little longer. If puppy is left here because of renovations, moving or vacations etc. a $100/week fee will be charged.
If you change your mind, or raising a puppy is not what you expected and want to return puppy, please contact us, and I will help you find another suitable home for your pet. I always have families waiting for puppies/young ones/adult dogs. $300 from the purchase price will not be returned to you.
No refunds on older dogs, so please be sure about adopting a dachshund.
Puppy must be fully paid before leaving our home.
Interact e-transfer or Cash are the only two acceptable payment options at the moment.
Statement will be supplied for your records.
We ship only in Canada at this time. Puppy will fly Westjet for about $400 depending on your location and size of the kennel. This includes the flight, airline approved kennel and our transport fee to the Victoria airport. Local delivery is also an option.
If you pay with Interact e-Transfer , please send the money from your home. When you get here, you will supply the password for me to accept the funds.
No sending money from my Wi-Fi please as it can take hours to get the funds to come through.
Since we are not a kennel and our dogs are our pets, when you visit us, you are visiting our home. The area where our puppies are born and raised is in the house. - in my bedroom. and I work very hard to keep it sanitary and clean for everybody. Therefore, I don't allow visitors to walk through our home other than to wash hands before handling the puppies. In the best interest of the puppies no visitations until puppies are older. They have no immunity against Parvo. If you do come for a visit when puppies older and have been vaccinated, please park your canr on the road and walk in. Do not drive in and please do not block the driveway.
We have to take every precaution we can to make sure our puppies are not exposed to any kind of disease that may be carried on shoes, clothing or even hands of those who have been anywhere a dog not from our home has been. This includes parks, dog parkds, dog shelters, vet office, pet stores and other breeders. We ask that you not visit any of these places before you come to our home. Since our home - my bedroom - is where current litters and future ltters will be housed, we do not want anything carried into our premises. Again please, when you do come for a visit or to pick up your pup, don't drive in, leave your car on the side of the road and just walk in. Gate is closed but not locked. Make sure you close the gate behind you.
We care about our puppies and the homes they will be going to. Please don't be offended if I do decide that a dachshund puppy is not the best choice for your lifestyle or family situation. Also, a dachshund can live well into his teeens, and we want to be sure you are prepared for that commitment.
Thank you for understanding!
And finally.... A lesson from our little Dachshunds.
We can all take a lesson from our precious little Dachshunds. They are happy little dogs with an exuberant zest for life. They believe in being happy and active and living each day to the fullest.
They love their sleep, they love their food, and they love playing. They beleive in making themselves very comfortable when they want to sleep. They love snacks, and various kinds of food, and when they find something they enjoy doing - they delight in doing it over and over.
They are not only very happy little dogs, but have a great sense of humor.
No wonder Dachshund owners are an active and happy bunch. Happiness is contagious and you can't live with a Dachshund and not be happy and enjoy life.
You are a Dachshund owner? You know about loving life, having fun and laughing every day.
You are soon-to-be Dachshund owner? Get ready for some of the most wonderul years of your life.